Hope & Uncertainty: How We Talk about Ecological Catastrophe An Interdisciplinary Colloquium
When and Where
Thursday, November 30, 2023

2:00 pm

to

6:00 pm
Jackman Humanities Building
Description
In The Great Derangement (2016), Indian literary author and critic Amitav Ghosh argues that "fiction that deals with climate change is almost by definition not of the kind that is taken seriously by serious literary journals" (7). His assertion indexes both a scarcity of literature and a lack of priority associated with the genres in which climate change is often addressed.
 
To interrogate whether Ghosh's assertions remain valid seven years later, we have invited six panelists in the environmental humanities to evaluate Ghosh's claims and, equally important, to describe their own research in ecology and literature.
 
Climate disaster has become increasingly relentless since Ghosh wrote and coverage of it is now ubiquitous. Has the literary landscape kept pace? 
 
Our colloquium features six panellists, who will interrogate this question, explain how they came to work in the environmental humanities, and share their current research.
 
The panel discuss will be followed by a keynote talk by Asian Canadian climate fiction writer, Larissa Lai, who will be reading from her story "Wet Market" forthcoming in an anthology published by Duke UP. 
 
We would also like to acknowledge the support of our sponsors: U of T's School of the Environment, the Jackman Humanities Institute, the Institute for Environment, Conservation and Sustainability, UTSC, and the English Department. 
Agenda
Panel discussion:  2:00 - 4:00 pm
Coffee break: 4:00 - 4:30 pm
Keynote talk: 4:30-5:30 p.m.
Panelists (6 in total)
Tania Aguila-Way: Assistant Professor, English, University of Toronto
Hanna Morris: Assistant Professor, School of the Environment, University of Toronto
Daniel Newman: Assistant Professor (Teaching Stream), English, University of Toronto
Imre Szeman: Director, Institute for Environment, Conservation and Sustainability, and Full Professor, Department of Human Geography, University of Toronto Scarborough
Matt Thompson: Assistant Professor, School of Arts, Media, Performance & Design, York University
Sarah Howden: PhD Candidate, English, University of Toronto
Keynote Speaker Bio:
Larissa Lai is the author of nine books, including The Lost Century, The Tiger Flu and Iron Goddess of Mercy. She has written extensively on questions on Asian Canadian literature, relationality, Asian Canadian ecologies, and speculative fiction.  Recipient of the Jim Duggins Novelist's Prize, the Lambda Literary Award, the Astraea Award, and the Otherwise Honor Book, and finalist for seven more, she was recently a Maria Zambrano Fellow at the University of Huelva in Spain, and Canada Research Chair at the University of Calgary where she directed The Insurgent Architects' House for Creative Writing. She is currently Professor jointly appointed to the English Department and University College at University of Toronto, and serves as Richard Charles Lee Chair of Chinese Canadian Studies.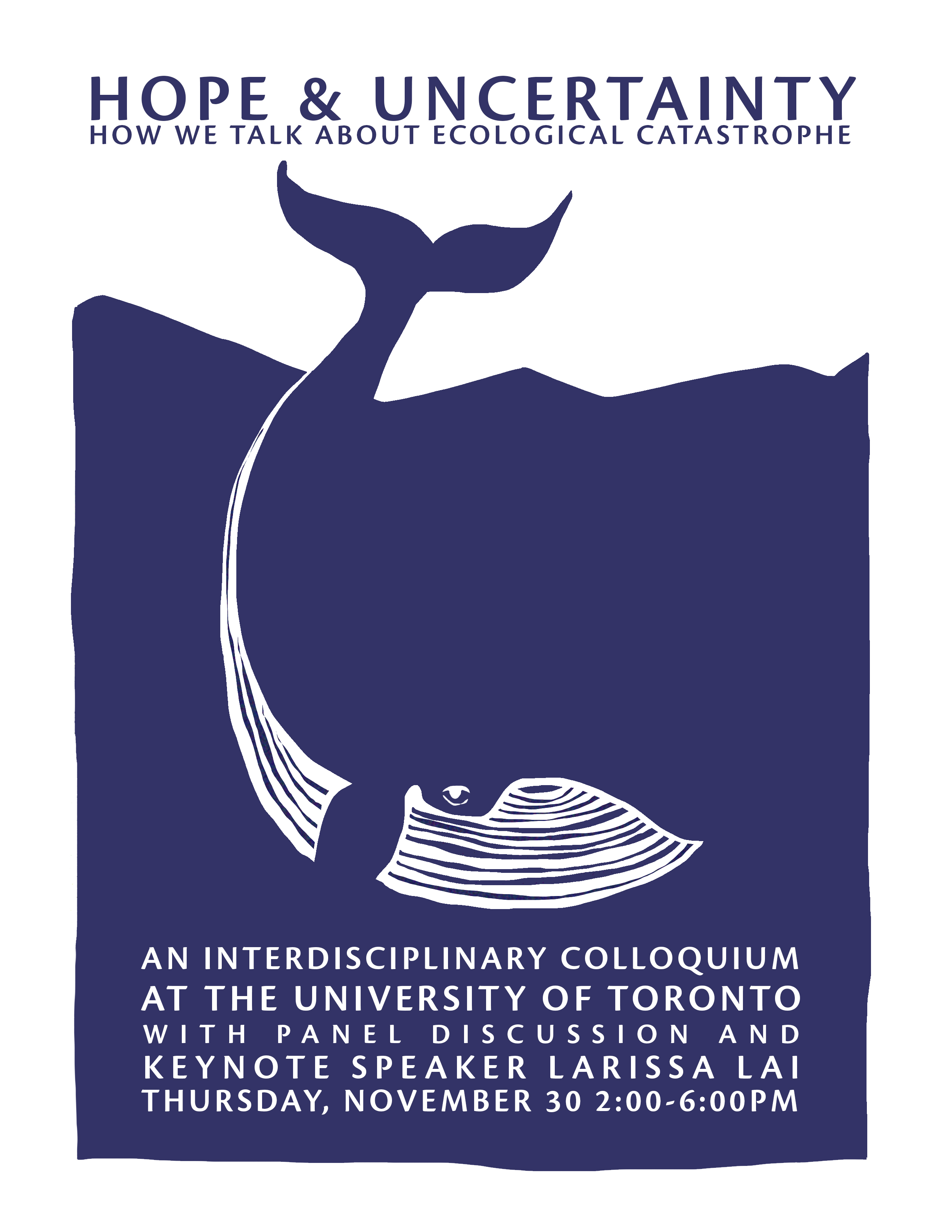 Sponsors
School of the Environment, Jackman Humanities Institute, Department of English, Institute for Environment Conservation and Sustainability